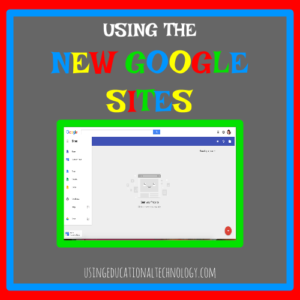 I am so incredibly excited to share with you, the NEW Google Sites! Friends, this update is LONG overdue. I started using Google tools when I was in college (I graduated with my BSEd in 2008) and I'm not sure that many – if any- updates have been made to Google Sites since then. If any changes have been made, they've been minuscule at best.
The new update was definitely worth the wait! The new Google Sites is so clean and intuitive … no more entering edit mode to make changes to individual pages or remembering to save your progress. The new Google Sites resembles Google Classroom and other tools in the GAfE suite. It just fabulous. I can't wait for Google to roll out these changes for all GAfE users!
Without further ado … how to create a website with the NEW GOOGLE SITES!
–>> Access sites.google.com/new where you'll be asked to choose a Google account. If your domain hasn't been given access to the early release, you won't be able to get to the new sites page. Sorry 🙁
–>>After you've logged in, you'll see the "Sites Home" screen, which is MUCH cleaner than the "classic" version of sites! In the screenshot below, notice how you can quickly access other Google apps … Docs, Slides, Drive, etc., directly from the sites home page. This is an awesome feature! To create your site, click on the "+" icon in the bottom right corner of the screen … exactly the same as working in Slides, Docs, Sheets, Classroom, etc. I LOVE this!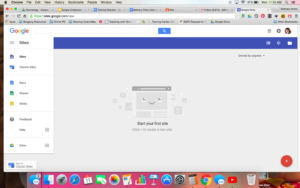 –>>Next, name your site (you can change this later) and choose a background – again, just like Classroom!

–>> The "Insert" menu allows you to add text boxes, embed codes, images, uploads from your computer, YouTube videos, Google Calendars, Maps, or anything from Drive, all from one easy to use box! Yes, all of these features were available on the classic version of sites under the Insert menu. However, the new version does not require the use of widgets or hovering over features to access files, documents, videos, etc. Super easy! If you insert a text box and wish to add a hyperlink in that text box, you can easily do this in the editing bar of the text box!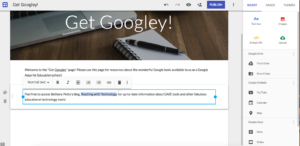 –>> Ready to add new pages? Simply select the "Pages" menu and click the add page icon. That's it! Easily change the order of pages from this menu AND edit the page name, make the page the homepage or delete the page from the site.

–>> Choose how your site navigation appears by selecting the settings cog by the three lines on the left of the homepage image. Horizontal or vertical, what looks best to you?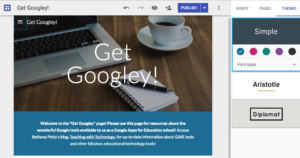 –>> Easily add editors to your website following the same steps as with Google Drive files. Following the same process to accomplish the same task across Google apps is an absolutely wonderful addition! Yay, Google!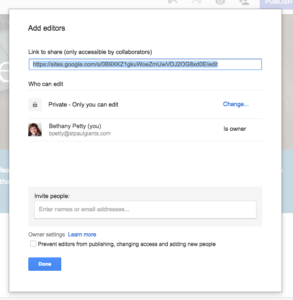 –>> View your website at any time by selecting the preview icon (eyeball) – exactly the same as viewing a Form.

–>> To publish your website, just click Publish! Don't worry, you can always unpublish if you need to 🙂 By selecting the dropdown option on the Publish button, you'll be able to adjust your viewing settings. Do you want your site to be viewable only in your domain? Should it be listed in searches?
The new Google Sites is absolutely fantastic! Forgive me, but I think the "classic" version of Google Sites was a tad clunky, and definitely not up to par with Google's other tools!
I have sent a few feedback messages to Google about sites … I'd like to be able to change fonts on my websites. This is a huge design feature that my students LOVE! Also missing are templates – if you've found templates on the new Google Sites, please tell me! I would love to use the Announcements page as a blogging platform for my students!
Have you played with the new Sites? Let me know what you think!
Thanks for reading 🙂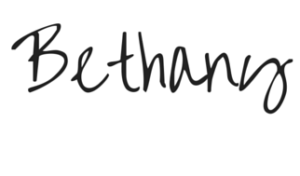 P.S. Don't forget to sign up for my mailing list!