Happy Sunday, my friends! I've been a bit MIA lately for a few reasons: first, I've been spending every spare minute writing my second book, CREATE, which will be published by DBC soon! More on that later 😀 Second, in addition to tea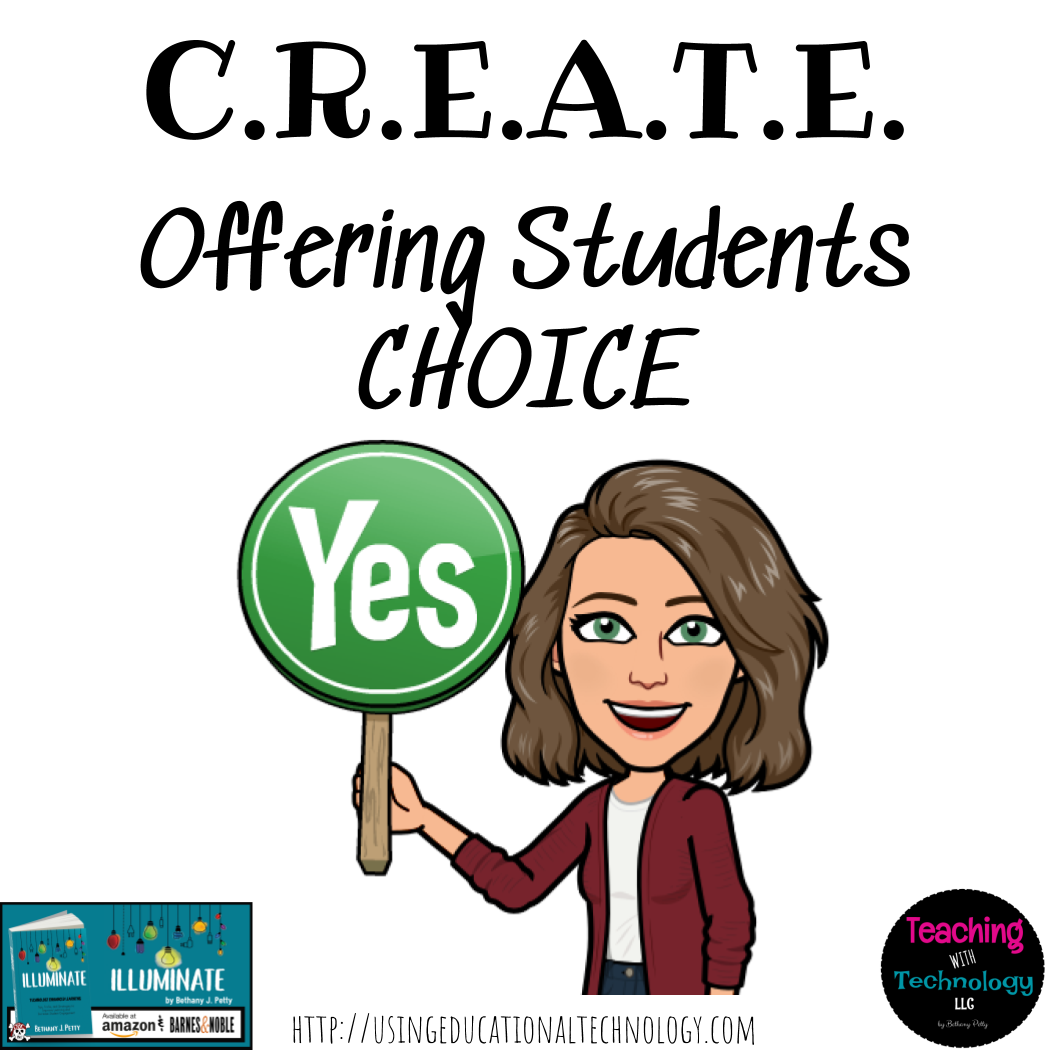 cher-hood, I'm also a pretty busy MOMMA! My daughters, ages 7 and almost 9, are involved in ALL of the things, ranging from piano lessons to ballet/tap/jazz multiple nights a week, as well as basketball and soccer practices and games. It is CRAY-CRAY every day in the Petty household, especially since my husband (a finance manager for a car dealership) works super unpredictable hours. We often find ourselves eating late suppers at our favorite Mexican restaurant so we can all be together for one meal each day! I know you know exactly what I'm talking about – we're all busy people! To help welcome CREATE into the world, I'm starting a new series to debut each component of the title/acronym … you know I'm a sucker for a good acronym! Welcome to the first installment – offering CHOICE in the classroom!
Through intentional tech integration, teachers can offer their students more CHOICE when it comes to how they plan to demonstrate their learning. Are you a fan of essays? Go for it. Would you prefer to create a visual representation of what you've learned using a sketchnote, mind map or something similar? Be my guest. Do you want to try your hand at creating a game to demonstrate what you've learned? How about a tweet? Do it! Students take more ownership and pride in a project in which their choice is taken into account. If you think about it, we all take more ownership and pride in work when w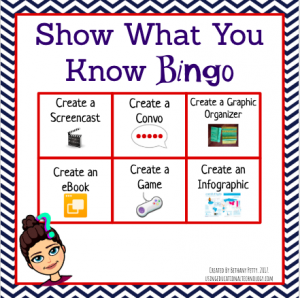 e have had an option on how we share information.
How do you provide students with CHOICE in your classroom? Every unit HyperDoc in our American Government class includes an extension page that students can complete to earn Bonus XP and review for their unit assessment at the same time. I always include a choice board aka Show What You Know BINGO which includes many options for students to create demonstrations of what they've learned. Students appreciate the opportunity to choose what they create to demonstrate what they've learned. Sometimes providing choice isn't an option because of course standards, learning targets, etc. But, when we can provide choice, doing so can increase student engagement and quality of work!
How do you encourage choice in your classroom?
Thanks for reading 🙂