Happy Thursday! We're in the middle of Homecoming Week in my district – today was "decades day" and I was a bit stumped as to what to wear. I settled on my Declaration of Independence shirt that I bought over the summer when we were in P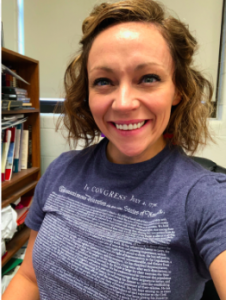 hiladelphia for ISTE and am representing the '70s … the 1770s that is! Yes, I'm a nerd 😀 Even though we're a third of the way through October, we're still technically in 1st quarter, which means we're still technically in back-to-school mode, right? Therefore, finishing my back-to-school with Google Classroom series today is just fine! Don't judge – this semester has been super hectic!
What's the final tip for using Google Classroom?
DRUMROLL, PLEASE …
Archiving Classes!
Yes, archiving your classes is tip #5. While there are many different perspectives on the best way to create sections in Google Classroom, such as creating a new section in Classroom each quarter, for each unit, etc., I have anxiety about actually deleting a class or deleting content from the Classroom stream when I'm finished with the course or the unit. Therefore – I archive my classes at the end of each course.
Archiving class sections has three main benefits for me:
Pacing: I really REALLY appreciate the ability to look back at previous years to be sure I'm making adequate progress. Sometimes, particularly in my dual credit classes, I find myself getting bogged down in my favorite topics, including the US Constitution, Greek Mythology, the Colonial Period, and the Protestant Reformation. It's nice to be able to glance at the previous year's section of each course to make sure I'm plugging away as I should!
Reusing Posts: Have you used this feature? In Classroom, when you're creating an assignment for a class, you can select "reuse post" to, for lack of a better phrase, "reuse" an old post from a previous, ARCHIVED class section. Can't do that if you delete your class section!
Accessing Student Assignments: Accessing student assignments is, in my opinion, much easier to do in an archived section of Classroom than searching around my Google Drive, digging through dozens of folders in an attempt to locate a file.
Do you archive your classes? What other tips can you share about using Google Classroom?
Thanks for reading 🙂