Over the past week or so, the Twittersphere has been buzzing with the news of changes to Padlet, a fantastic tool that many teachers, myself included, have used frequently over the past few years. Padlet has offered premium versions for quite some time, but the new update allows users to create three padlets beyond what is already in their account. I was a tad confused as well, so I contacted the great people at Padlet for some clarification.
As you've probably noticed by reading my blog (thanks for that!), I LOVE this tool and use it at least weekly, sometimes multiple times a day, in my classroom. I have nearly 300 padlets in my account, so when I initially read the "create three more padlets" upon opening my account, I panicked! However, after hearing from Padlet, I calmed significantly when I learned that none of my existing work would be deleted or changed in any way – MASSIVE sigh of relief – and that the space in my account was being capped at my current number of padlets + 3.
I also learned that Padlet opened previously premium features, such as font and themes, to free accounts. They've also recently added a "backchannel" wall option – more on that soon!
If you are new to Padlet, the number of "walls" you will be able to create 3. If you wish to be able to create more, you'll need to upgrade to one of their premium accounts. Check out their pricing structure here.
Teachers who use Padlet frequently may find the new premium account price ($99/year) too expensive … and Padlet gets that. They are offering a monthly payment option ($8.25/month) and will allow teachers to pause their subscrip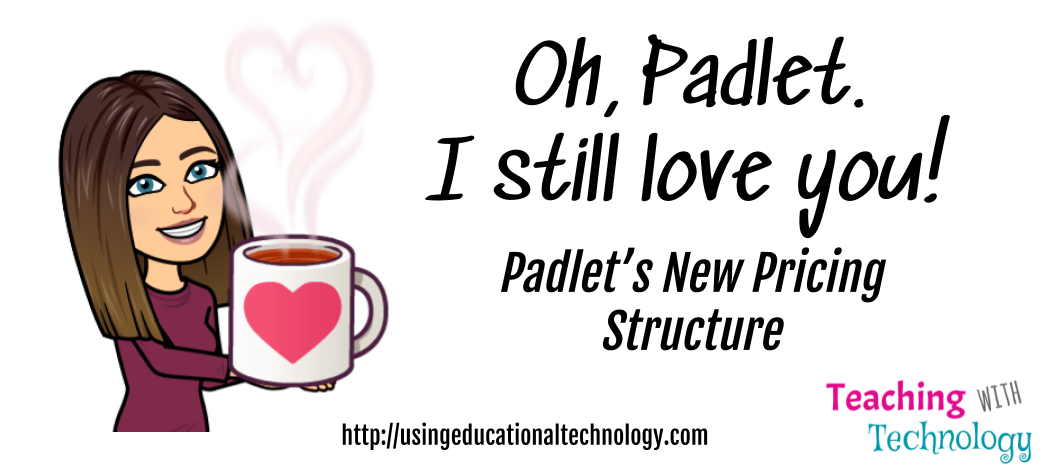 tion for 1-2 months/year. Padlet is also exploring a premium option that provides users with the ability to create somewhere between 3 and unlimited padlets, with a price range between free and $99/year. This should be available soon. They've also announced a scholarship program for users who need a premium account but don't have the funds with which to pay for a premium account. Information about this program will be available soon –> check out this article from founder, Nitesh Goel.
If I near the limit in my free account, I can delete old padlets that I'm not using anymore. Padlet likens this to storage on your cell phone – if you're running low on storage, you either delete apps/files you're not using, or you purchase increased storage.
So … while I freaked out and began to panic when I initially heard the news about these changes, I understand their decision. Padlet is run by a small group of people and serves a huge (and growing) number of users all over the world. I love Padlet and think it is one of the most amazing tools to encourage students to participate and engage in learning!
How do you use this great tool in your classroom?
Thanks for reading 🙂