I wonder if John Hattie's ears have been burning over the last few months. My district has been diving into his work, focusing on the top four practices that Professor Hattie has recognized, through his HUGE meta-analysis of millions of students across the world. I've read articles, bought books, utilized my PLN, followed Professor Hattie on Twitter, and have tried to learn as much as I can about these practices that positively influence student learning. Of the top practices recognized by Professor Hattie (assessment capable learners, spaced vs massed practice, effective feedback, and reciprocal teaching), my particular focus has been on creating assessment capable learners, also known as ACL.
I'll be really honest with you – this is my 10th year teaching, and I have never heard of the phrase "assessment capable learning/learners." We've all heard of metacognition, self-assessment, using rubrics, etc., but when I heard "ACL" I immediately thought of my knees and the condition of my ACL after nearly a decade of volleyball …
Anyway, since learning about the HUGE effect size of assessment capable learning/metacognition on student learning, I knew I had to dive in and implement this practice in my classroom. We're also in the process of rewriting curriculum, so revamping my assessments and projects/activities to follow assessment capable learning practices is a no-brainer! Here's how we're using this practice in our classroom:
Using Pre-Tests and Self-Assessments
I've used pre-assessments throughout my teaching career as a way to understand my students' prior knowledge of content. These pre-assessments have been both formal and informal in nature, and have included questions similar to what will be addressed in the unit summative assessments. I've learned, however, that I need to include two features in my pre-assessments:
"I don't know" as a response option on pre-assessments
Create learning targets using student-friendly language based on standards
Prior to learning about ACL, I discouraged my students from writing "I don't know" or the dreaded "idk" on assessments or assignments, and instead encouraged them to try to think of something they knew about the topic. However, on a pre-assessment, answering "I don't know" is perfectly acceptable, as long as it's followed by "yet." As I assigned our recent pre-assessment, I explained this to my students and shared that not knowing about a concept before they learn about it is absolutely and perfectly FINE! It's totally OK, helpful, respectable, etc., to recognize that you don't know anything about a concept … as long as you're not accepting the lack of knowledge or understanding as the end of the road. I told my students that if they really didn't know the answer (after reading the question and response options) to feel absolutely no shame in choosing "I don't know," as long as they followed the phrase in their mind with "yet" because they will learn the concept! "I don't know" is not definitive – it's temporary!
I, like many of you, have used rubrics for projects throughout my teaching career. However, looking back on those rubrics after learning about ACL, my rubrics sucked! I was evaluating components of projects on rubrics that I wasn't teaching and shouldn't be assessing, based on my standards. I teach Social Studies – while I can help and guide my students on how to use proper grammar, conventions, etc., those aren't components I should be assessing! I've since created new rubrics that are tied to specific learning targets – as they should be! When I created and shared these new rubrics with my students, I made sure to describe the learning target (standard) in student-friendly language, which isn't something I had done before. What good will it do for my students to know what strand and which component of the Missouri Social Studies standards are being addressed? They need to understand what they will be learning and how they will be assessed, which can be accomplished by creating learning targets using student-friendly language!
As my students create their Apply product for each unit, I take time to explain and discuss the requirements on the rubric with them, making sure they understand what's expected. They use the rubric to assess their work prior to submitting the product, which allows them to see where they are, where they need to be, and what they need to do to get there. Students highlight "where they are" on specific aspects of their rubric, which allows them to visualize what they need to do to accomplish a goal. That's the foundation of assessment capable learning – students have a clear understanding of where they are, where they're going, and what they need to do to get there.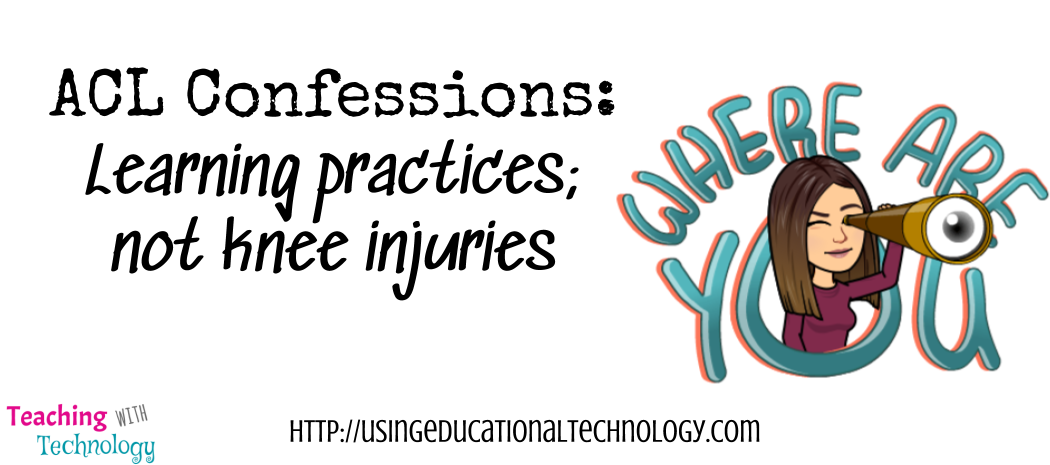 It's a terrible feeling to be unsure of what's expected in any aspect of life. Imagine how our students feel!
Check out the requirements for the Apply phase product of my students' Missouri Constitution and Federalism HyperDoc here, and the rubric for that activity here.
How do you use ACL in your classroom?
Thanks for reading this super-long post 🙂