Well, friends, one of my goals for this summer was to read Kids Deserve It, Launch, and the HyperDoc Handbook. I freely admit today that I did not accomplish that goal! However, I'm reading – and loving!- Kids Deserve It right now, and it's really speaking to me! I just finished chapters relating to teacher doubts and keeping your personal struggles outside of the classroom, and on this Monday it really hit home!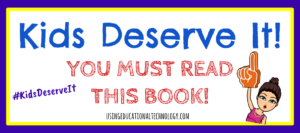 Starting with doubts … as a teacher, I doubt myself and my abilities on a regular basis. Please tell me I'm not alone! I'm starting my 9th year teaching and I have changed/updated curriculum, strategies, and methods every year because I want to make sure that I'm evolving as a teacher and always striving to be better for my students. However, I find that I'm constantly asking myself if what I'm doing is right or enough for my students. I'm the teacher that learns about a new strategy or tool, thinks "hey, this sounds great," and dives headfirst into the unknown. This sounds fun, right? Sort of … a positive and a negative of doing something different is … no one else is doing the same thing. I almost feel like a teenager again searching for reassurance that I'm doing "it" right by checking that everyone else is doing "it," too.
I feel like I doubt myself in my personal life, too. Am I a good enough mommy to my adorable, wonderful (the adjectives go on and on) daughters? Am I a good enough wife? Am I a good enough daughter, sister, friend? I know I'm not a good housewife … so that's a no-brainer! Doubt has always been a part of my life, like a black blob of goo that, it I let it, would pull me down. Adam totally nailed my feelings on doubt, and how I try to combat it …
"So when you feel doubt creep in, tell it to back off! Look at yourself in the mirror and remind yourself how incredibly unique and important you are. And then connect to others who can support you!" (Kids Deserve It)
Connecting with like-minded teachers through Twitter has been a HUGE help to my self-doubt. I find teachers on the Twittersphere that are diving headfirst into the abyss of new strategies just like me! We connect! We share! We support! Just reading other "tweeachers'" posts about their experiences is almost therapeutic. Sharing my experiences with other educators is awesome. Having other educators read my thoughts and ask my advice is fantastic. Calling my Mom, who has always been my biggest cheerleader, and have her tell me I'm doing great and she's proud of me also helps push back the black blob of doubt. I'm working to prevent my doubt from dulling my enthusiasm because KIDS DESERVE IT!
I take pride in being an excited teacher. When anyone asks why I rap, sing, dance, and act like a crazy person in my classroom I tell them that I learned a few years ago that everyone is not as excited about Government and history as I am and I have to find some way to get them involved in the content. If I have to be a little nutty to help their learning experience, I can do it 🙂
Some days, though, it takes A LOT of energy to be excited. I love my job and I love my content, but some days are just tough. Maybe I hit snooze one too many times and got up late. Maybe I forgot my lunch and had to eat school lunch or starve – ew. Perhaps I got stuck behind someone on the way to work who clearly didn't have any place to be at any certain time. Maybe my daughters didn't want to get up and get ready, or maybe they said the just wanted to stay with their mommy which makes it REALLY HARD to not want to stay home with them! The kiddos really know how to tug on the heartstrings. Maybe I'm tired or I didn't get to run the night before. Perhaps there's a financial strain or hardship. Maybe there's a sickness in my family or I'm worried about someone. All of these issues make it HARD to be excited! But, as Todd and Adam say,
"Kids deserve an excited adult."
My students are coming from all different walks of life. Some of my students have probably experienced more turmoil in their lives than me, and they deserve an excited Mrs. Petty. They don't deserve dull, boring, or bitter Mrs. Petty. So, I'll make a constant, conscious effort to be the high-energy, YouTube-rapping, coffee-addicted, crazy Social Studies teacher for my students and leave all of my issues "in the car." Will I be successful every day? Nope, but I'll give it my best. Why
Because Kids Deserve It.
Thanks for reading!