I hope your school year is off to a fabulous start! We've been in session since the middle of August, but I know many of you are jumping back into the school year today! If you're looking for a great EASY way to keep students and parents informed of assignments, activities, and classroom happenings, look no further than Google Calendar and Classroom!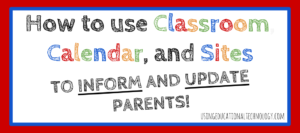 You may have noticed that Google recently made some fantastic additions to Classroom, including the "tag" feature to organize material and the option to invite parents/guardians to receive updates from Classroom for their student. Both of these features are wonderful (the tagging option is ah-mazing!). However, in order to send updates to parents, teachers must enter each parent email INDIVIDUALLY by the corresponding student. I DO NOT HAVE TIME TO DO THIS! Nor, do I want to take the time to do this! Hopefully, Google takes my suggestion (yes, you can AND SHOULD suggest Classroom improvements!).
Unless you'd like to spend time adding parent email addresses to each student in each section of Classroom – if you've found a way around this, please share! – you can still keep parents informed of classroom happenings with relatively little (extra) work for you.
Last year, Google unveiled the Classroom Calendars feature. Each section in Classroom automatically gets its own calendar that can be accessed by the teacher either through Classroom or through Google Calendar. It's spectacular. Every assignment that is created in Classroom is included on the Calendar for that class. Keep in mind that only ASSIGNMENTS created in Google Classroom will automatically be posted on the Calendar for that Classroom section. Announcements (or questions) posted in Google Classroom will NOT be posted to the Calendar. You can circumvent this by … creating everything as an assignment OR adding information to your calendar individually.
In order to keep students and parents informed of classroom happenings, I embedded my course calendar for each of my Classroom sections (calendars created with Classroom) on my course Google Site. Assignments are updated on that calendar when they are added in Classroom.
If you'd like to include more than just the due date on your calendar, simply access the event through your Google Calendar and edit the start date and end date. Voila!
Check out this YouTube tutorial for a quick walkthrough 🙂

God's Blessings to everyone for a wonderful school year!
Thanks for reading 🙂