Today, the "Share to Classroom" extension for Google Classroom was pushed out to students in my building.
After reading about the new extension, and reading about teachers' experiences on Twitter, I admit I was a bit hesitant about the purpose and effectiveness of this tool.
However, my fears were assuaged today when I tried the extension with my students.
I opened a website I needed my students to see, selected the Share to Classroom extension, and chose "push to students." I was immediately met with "whoa, what just happened?!" and "did you just hack into my computer?!"
As soon as I selected "push to students," the website I shared immediately popped up in a new tab (which was pushed to the front) on their screen.
Awesome, right?!
The Share to Classroom extension also allows students to "push" website to their teacher. Of course, we experimented with this feature as well! When students "pushed" a website to me, a notification appeared in the bottom corner of my screen, which included the student's name and the website they shared. Their website suggestion DID NOT appear in a new tab on my screen!
Sharing or "pushing" websites to students, posting assignments and announceme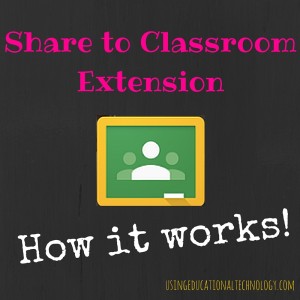 nts is definitely easier with the Share to Classroom extension.
Think how great this would be with a sub…just as a friendly reminder to your students about what they should be doing during the class period you're away 🙂
Give it a try!
Thanks for reading 🙂