You're a teacher. You have summers off.
How many times have we heard this?
So many outside the world of education, my loving husband and father included, sincerely believe that teachers truly "have summers off."
Oh, friends. When will the rest of the workforce truly realize that we don't have summers off? Maybe, we just need to clarify what time "off" means in the mind of a teacher.
As a teacher, closing out my 8th year in the classroom, and the daughter of a teacher (seriously, Momma has been at this for over 30 years – what a trooper!), here's what my "summer off" looks like: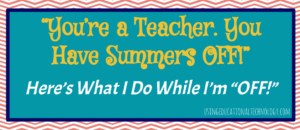 Revamping Curriculum

One of the many (lofty) goals, I have created for myself this summer is to create interactive eBooks for students in my American Government classes. As I've mentioned previously, I'll be using Google Slides to create these eBooks, thanks to a great post from Shake Up Learning. Instead of creating one giant eBook for the entire American Government course (it's an entire year), my plan is to create mini eBooks for units that we study. This will hopefully make the eBook(and course!) seem less daunting.

Personal Learning Network Development

Seriously. How do teachers without a personal learning network do it? I can't imagine where I'd be without the wonderful WORLDWIDE community of educators I've joined over the past two years. My personal learning network is a source of new information and tools, but also a fount of motivation. There's something special about interacting with "colleagues" who are "in the trenches" with you. It's pretty great. I plan to create and share a new hashtag – which will hopefully turn into a Twitter chat – to continue to grow as a teacher through my PLN.

Reflection

After my mind has returned to a somewhat normal state after the end of the school year craze, I reflect upon the big picture of my classroom. What worked? What didn't? What should I add/change for my classes next year? What can I do differently to enhance the learning environment and increase student engagement? What can I do to help students learn? I'll be sharing a survey with my students, asking them these same questions and will ACTUALLY READ their comments. This is gutsy, I know!

Sharing

I've written before about the purpose of my blogging journey – I want to reflect upon my experiences in the classroom and share those experiences and ideas with the world. I'll be taking this goal a step further (by July 31) by publishing a new eBook, "The Ever-Changing Classroom," in which I reflect upon my classroom environment, 2008-2016, and share what I've learned as a teacher. I am so excited! I also plan to create "flipped PD" videos of my professional development sessions!

Certification Craze

One of the major goals I hope to accomplish – no, I WILL accomplish – this summer is to earn my Google certifications. I'm obviously a Google user and hope that by earning these certifications, I can be more of an advocate for GAFE classroom use and share amazing EdTech possibilities with other teachers.

Reenergizing

When the end of June finally rolls around (I teach a month of summer school), you can bet that I will stop setting my alarm and will roll out of bed whenever my kiddos decide it's time for me to get up. I will most definitely enjoy a cup of coffee while watching the TODAY show in my jammies until my daughters decide it's time for Sofia the First. I will definitely finish reading books that I haven't had time to pick up unless my oldest daughter would rather read a Bob book to me 🙂 So, yes, I will be reenergizing during the summer months.
Does it sound like I take the summer "off"? Do I shut myself off from the world of education, and vow not to think about my classroom or the immensely important role I play as a teacher in the lives of my students?
Um, no.
Could I lock my classroom door on the last day of school and not think about it again until August? Sure. But I just can't. I have far too many goals and expectations for myself as a teacher – we have one of the most important jobs in the world. I don't take that lightly.
Happy Teacher Appreciation Week, friends! You're awesome!
Thanks for reading 🙂