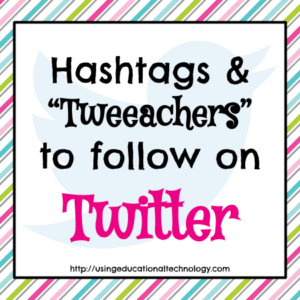 Welcome to another addition of Teaching with Technology's favorite things! Today, I focus on my favorite Twitter hashtags and "tweeachers" to follow for ideas, inspiration, and professional development. It's time to grow your PLN! Let's get to it!
#hashtags … or as my mom calls them, pound signs 🙂
Just in case you're unfamiliar with Twitter and hashtags … think of these as search tags on posts.
#edtech – Cool EdTech tools/resources
#edchat – As it's name implies … discussion about all things education 🙂
#gafe/#gafechat – Discussion and resources about the wonderful

G

oogle

A

pps

f

or

E

ducation tools
#blendedlearning – Discussion about techniques and tools associated with a blended learning environment
#badgechatk12 – I'm new to this chat, but check here for great resources about gamification and the use of badges in the classroom
#moedchat – If you're a teacher in Missouri, you probably know about this chat! Great discussion with fantastic Missouri educators! Join us Thursday evenings!
#edbeat – Positive conversations about education 🙂
#tlap – Teach Like a Pirate chat … if you haven't read this fabulous book, please do!
#stealEDU – Recently created by Alice Keeler, use this hashtag to find and steal great resources for your classroom!
#techyteacher – This is MY hashtag! I'll be promoting this soon! Use this hashtag to share tech resources and reflections!
Tweeachers to follow (Yes, I totally made up this word!)
@rmbyrne – The guru of EdTech, Richard Byrne shares tons of fabulous resources with teachers – follow his blog, FreeTech4Teachers!
@shakeuplearning – I LOVE Shake Up Learning! Kasey Bell shares great Google resources with her readers. Check out her blog and sign up for her mailing list!
@alicekeeler – Alice shares wonderful Google resources and great thoughts about what education should really be!
@burgessdave – Dave is the author of so many wonderful books (which make up most of my summer reading list!), including the super amazing "Teach Like a Pirate."
@coolcatteacher – Vicki Davis is just AWESOME! She shares so many wonderful posts from her blog and great ideas about education.
@jenwilliamsedu – Jen is a fantastic resource for all things education!
@smgaillard – Sean leads the #edbeat chat and always shares positive messages – and awesome music!- with the Twittersphere 🙂
@mrmatera – Mr. Matera is the author of EXPlore Like a Pirate which explains the process of gamification of the classroom – put this on your reading list!
@Bethany_Petty – that's ME! Most of my posts are resources, reflections, and ideas from my classroom … sprinkled with funny anecdotes from my wonderful daughters, odes to my wonderful treadmill, tidbits from my mommy blog, and random questions for the creators of Once Upon a Time – I may have an obsession 🙂
What hashtags and Tweeachers should I add to my list? Be sure to follow me on Twitter!
Thanks for reading 🙂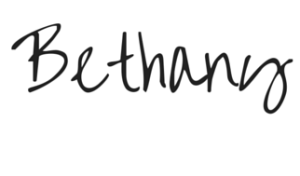 P.S. Sign up for my mailing list! Freebies coming soon!