The end of the year is upon us! Summer is around the corner! Time for reflection, revamping, recharging and … a tad bit of rest 🙂 As my second year in a flipped classroom environment draws to a close, it's time to revisit what worked, what didn't, and what will happen next!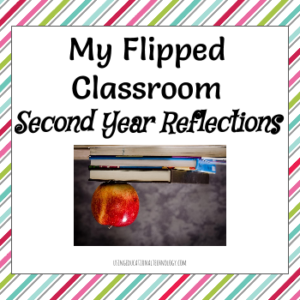 What worked!
–> The "In-Class Flip" definitely worked this year! When I began my flipped classroom journey, I used the "traditional" flipping method … if a traditional method of flipping even exists! … and wasn't 100% happy sold on it. Students were having WiFi issues out of the classroom, and I really couldn't penalize students because they were unable to access reliable WiFi. My students viewed 2-3 videos per week as an opening activity. They took notes on a Google Doc I shared with them through Google Classroom and interacted with the video via EDpuzzle. I found this method to be extremely effective because if students had technology issues (WiFi, video, etc.,) I was able to help them immediately – most often with little class time lost. Also, the in-class flip allows me to help students with content misunderstandings on the spot … which is obviously helpful!
–> Towards the end of the school year, I started creating Padlet walls for each unit we completed. Students were required to post to the unit Padlet wall as they were completing (or after they had finished watching) each instructional video. They listed information they didn't quite grasp or simply posted "I'm good!" This served as their "exit ticket" and was quite effective! I had a clear view of information students didn't understand, and had the perfect platform from which to review information or even create a new instructional video! It was fantastic!
What could have been better…
–> Assigning Modules/Notes on Google Classroom is definitely something that will be better next year. At the beginning of every unit, I assign a "module" which includes the learning objectives and activities for the content my students will be learning. This year, I assigned the module, notes, and any links for reading through Google Classroom … which was great … however, I didn't always share these resources/assignments with my students in the same post. This led to much confusion and frustration. In the future, I'll assign the module/notes for the unit as one document via Classroom. Hopefully, since everything the students will need for the unit will be in one spot, it will eliminate the question of, "where is that on Classroom?" 🙂
What's coming next!
I am extremely interested in moving my classroom to a flipped mastery learning environment. I think this will create a much more individualized learning experience for my students … which is what compelled me to implement the flipped approach! I would LOVE to see a flipped mastery classroom in action or talk to a flipped mastery Social Studies teacher. If you know someone who uses this strategy, please let me know!! I also plan to continue my gamification journey next year. Mission: American Government was a HUGE success, and I can see flipped mastery and gamification working hand-in-hand!
Thanks for reading 🙂