If I had a dollar for each time I heard these questions….I would be incredibly wealthy 🙂
"The webpage isn't loading"
"My screen froze. What do I do?"
"Um, I don't see the right stuff on this website."
Do you hear these same questions from your students? Are you frustrated with repeating the same instructions day in and day out?
I am!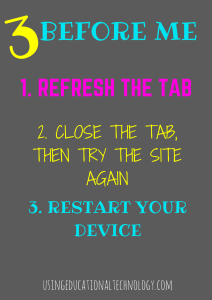 Tomorrow, I'm putting this poster in the front of my classroom…in a place that my students will notice the very valuable instructions it includes!
I don't EVER want to discourage my students from asking me technology or content questions. However, I want to provide them with quick troubleshooting tips for technology problems the encounter.
If you'd like to display this poster in your classroom, please click here for a PDF version of the image.
Thanks for reading 🙂