Hello. My name is Bethany, and I love technology. (Hi, Bethany!) By now, you've no doubt have figured me out. I love technology. I love its potential in my classroom. I love how I c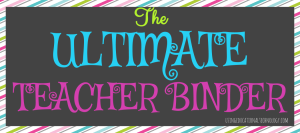 an use it to increase student engagement. It's fantastic. However, sometimes, I need to write things down. I know. This is extraordinarily uncharacteristic of a 21st-century educator. Everything is online or in my Google Drive. Why do I need the Ultimate Teacher Binder?
Maybe it's just me, but I like the idea of a teacher binder, and it's crazy that I'm ending my 8th year teaching and just now making one.
Yes, all of my lesson plans are online. Yes, my Google Calendar houses my important agenda. But sometimes, it is nice to have a physical copy of plans, procedures, calendars, student information, etc.
Enter the Ultimate Teacher Binder!
I created this binder with my younger sister in mind … she will begin her teaching career in the fall, and is a tad obsessed with organization – much like her sister 🙂
Here's a quick rundown of the contents of this awesome – ultimate, if you will – teacher binder.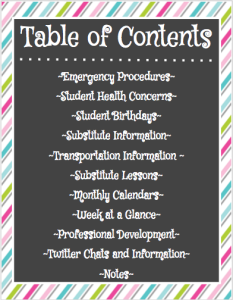 Emergency Procedures: Outline procedures for fire, earthquake, tornado, and intruder on eye-catching pages
Student Health Concerns: How helpful will this be for subs?!
Substitute Information: What are your classroom procedures? What technology can students access? Answer these and other important questions for your substitute teachers. Also, leave and manage substitute reports with this handy binder 🙂
Substitute Lessons: A great spot for those emergency lesson plans. Yes, we can always assign information to our students from anywhere via Google Classroom. However, sometimes we can't get to our classroom to print off information for our substitute teachers.
Monthly Calendars/Week at a Glance: I like to scribble long-term plans and goals for my classes – perfect!
Professional Development Info/Twitter Chats: Easily keep track of information to share with colleagues, and what Twitter chats you should join. Definitely bookmark Participate Learning for an updated list (and explanations!!) of Twitter chats!
I hope you find my Ultimate Teacher Binder extremely useful! P.S.
P.S.  Click here to purchase the Ultimate Teacher Binder through the Teaching with Technology store. Be sure to use the code teachingwithtechnology to receive a discount on this great bundle 🙂
Thanks for reading 🙂