Kahoot! is an absolutely amazing formative assessment tool for classrooms. It's fun, competitive, and it offers great insight for teachers. AND…students actually love it!
Kahoot! is appealing to students of virtually all academic and grade levels. Teachers can easily create a variety of activities on Kahoot!, and can quickly share those activities with their students to encourage content understanding even outside the four walls of the classroom.
Kahoot! has made a number of additions to their fabulous tool over the years, including "ghost mode," which allows students to play games multiple times against their first (or second, etc.,) attempts, as well as new varieties of music – let's face it if you play Kahoot! without sound, you are REALLY missing out on one of the most fun features!
You can always count on Kahoot! to update their site and music in keeping with holidays and seasons…so fun!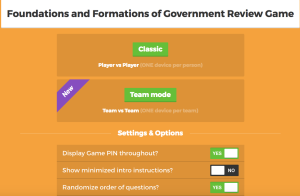 Well folks, Kahoot! has done it again! This morning, I opened a Kahoot! I had made earlier this year to review course information with my students (you know, standardized testing season is upon us – ugh) and noticed a new addition – "Team Mode."
I won't lie to you – when I opened this screen today, I squealed. I really did. A new feature on Kahoot is cause for excitement, friends!
As is typically the case, before I share a new feature or tool with you, I see how it works with my students.
The result?
"This is awesome!" "Can we Kahoot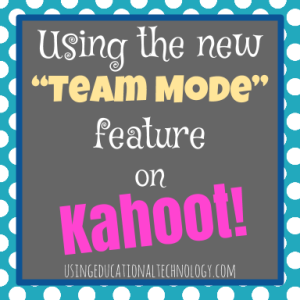 like this all the time?"
My classroom tables are grouped into pods, so when I noticed the "one device per team" instructions, having students play as a table was a no-brainer. Students then are asked to sign in with a group name, and then record their individual names as well.
Like always, less than appropriate team or individual names can easily be kicked out of the game … not that our students would ever do that, though 😉
"Team Mode" does differ from the "Classic" version in that it allows 5 seconds for "team talk" after the question and response options are displayed on the board. During this period, teams obviously discuss the correct response, and then quickly select the correct color option when it appears on their team device.
My only request/suggestion for "Team Mode" is that teachers should be able to adjust the time allotted for "team talk." With some questions, 5 seconds is WAY TOO long for discussion, while on other activities, I could envision students needing more time to talk it out.
"Team Mode" on Kahoot! is fantastic! I can't wait to see what is added next!
Thanks for reading 🙂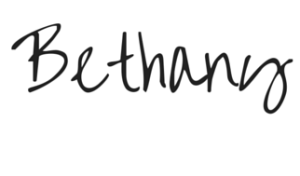 P.S. Don't forget to sign up for the Teaching with Technology mailing list to receive freebies and discount codes, as well as new updates from me!