Google Classroom is just awesome! Managing the flow of Docs and assignments has never been easier, thanks to this fabulous tool.
A vastly underused feature of Google Classroom, however, is the About section. When I first noticed the About section, my first thoughts were, "what is this?" and "what am I supposed to put here?" as well as "can my students see this?"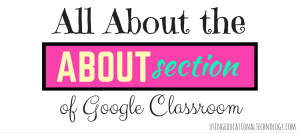 After toying around with this section … which is how I tend to figure out most things in the edtech world … I realized the enormous untapped potential the About section actually has. Here's a quick rundown of how I use this section in my classroom.
It's a GREAT place for frequently used Google Forms and Docs
Do you have a course syllabus? Stick it in the About section! Do you use Google Forms to collect student information? Stick it in the About section! Any resource your students need to access can be placed in the About section … and it's easy for everyone to find.
Readings or PDF files
My students read substantial amounts of primary sources, especially in my dual credit classes, and placing them in the About section of Google Classroom seems to alleviate the "where do I find that reading" question I hear. Placing these files in the About section of Google Classroom also prevents them from becoming lost in the sea of Assignments, Announcements, and Questions that fill their Classroom stream.
Important links (review games, Padlet walls, etc)
Any links to Kahoot, Quizizz, or BrainRush review games that I share with my students are available in the About section of Classroom. Padlet walls that include requested review materials are also located in this section because students are able to find these resources quickly, without having to use "CTRL+F" quite as much 🙂
How do you use the About section of Google Classroom? Let me know in the comments or on Twitter!
Thanks for reading 🙂