I stumbled upon wizer.me earlier this year, and immediately put it on my "to-check-out" list. I typically steer away from "worksheets," and try to create interactive activities where my students can apply knowledge of course content. To do this, I create "modules," which are really just assignment bundles, that I digitally assign my students through Google Classroom.
Lately, I've been thinking about how I can jazz up the modules I share with my students, to include more interactive content to enhance their learning experience.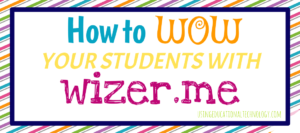 I thought about creating mini eBooks for each unit using Google Slides – maybe a techified version of interactive notebooks … and this is still a possibility.
However, I looked back to my "to-check-out" list … which is really just a Pinterest board … and remembered wizer.me.
My immediate take-a-ways? WOW! This is an AH-MAZING tool for classrooms! It's so easy to use!
AND…I can assign these "interactive-sheets" through Google Classroom! Bam!
Lots of exclamation marks, I know … but wizer.me really is fantastic. Here's a quick guide to help you get started.
–>> Access wizer.me
–>>Select Start Now!
–>> Sign in with Google … if you are a Google user, of course! The Google single sign-on is a feature that I look for (and LOVE) in EdTech tools.
–>>Select "EXPLORE" at the top of the screen. Search already created worksheets to get inspiration or to use with your students!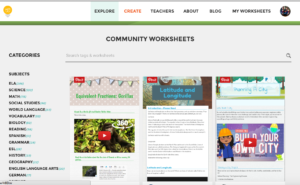 –>>Select "CREATE" to begin the super-simple task of creating your own interactive worksheets!
–>> Enter information about your worksheet
–>> Choose your background image, colors, and font … get creative!!! Choose from many different background images and GOOGLE fonts!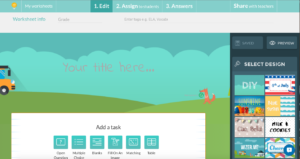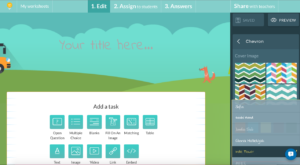 –>> Insert questions/activities/videos – set point values for each section you create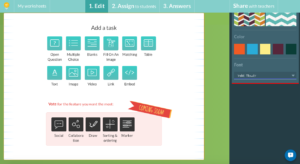 –>> Assign to students – when you are finished with your awesome interactive worksheet, assign it to your students! Simply click "enter group," type the group/class name, then choose how to assign your activity.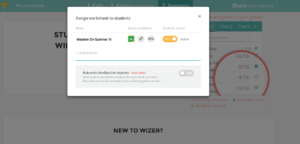 –>> Assign through Google Classroom – select the Classroom icon, select your class from the list, and choose how to share the activity with your students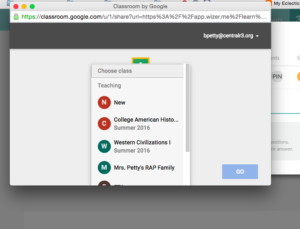 –>> Share your worksheet with ANYONE!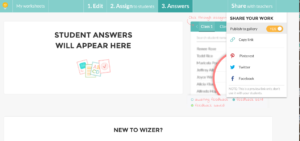 –>> View student work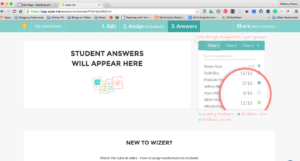 As you know, I'm a HUGE fan of great tools like Nearpod and EDpuzzle. I can include lessons from these great sites in interactive worksheets I create with wizer.me by adding an embed code to my activity. I created a study guide for my dual credit Western Civilizations summer class with wizer.me, and was able to include all of the Nearpod presentations from the course on the study guide. My students loved it!
The only learning curve I can forsee with wizer.me is that student progress doesn't save automatically. My students are so accustomed to working in Google Drive where all of their work is saved without selecting a save button. However, simple reminders to save work should solve the issue 🙂
Check out my Western Civilizations Study Guide here for an example of wizer.me in action!
I will most definitely be using wizer.me during the school year! I'm so excited to share these interactive activities with my students!
Thanks for reading 🙂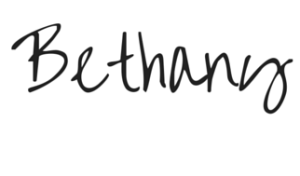 P.S. Don't forget to check out my Google Chrome eCourse, now available for only $15! My Google Classroom eCourse is in the works, and should be ready soon!