Hello from Missouri, the land of extreme heat! I know 90+ degree weather may not be something to complain about it today's society, but it's just really hot! Enough complaining, though … it's time for a giveaway!! Earlier this month, I asked my Twitter and Facebook followers to share what they would like to win from a Teaching with Technology giveaway. The resounding response? My Google Chrome eCourse!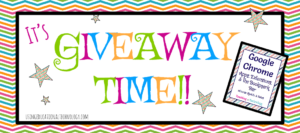 Just in case you've missed the explosion on my social media pages (haha!!) I recently created my first eCourse, Google Chrome: Apps, Extensions, and the Bookmark Bar, which is available through Teachers Pay Teachers and by clicking the Google Chrome eCourse page on my blog 🙂
In order to give a clear picture of the types of posts you, my awesome readers, would like to see, please take 3-5 minutes to complete the form on this page!
By completing this form, you will be entered into the Google Chrome eCourse giveaway! It's that simple 🙂 A winner will be randomly chosen … using Flippity's Random Name Picker! … on June 27th!
Thank you in advance for your input! Please share my blog with your friends and colleagues!
As always, thanks for reading 🙂