Google Forms has gotten even more fabulous! After glancing through an EdSurge article today that debuted some new Google tricks, I had to cut short my afternoon nap (I was REALLY excited) to play with these new features!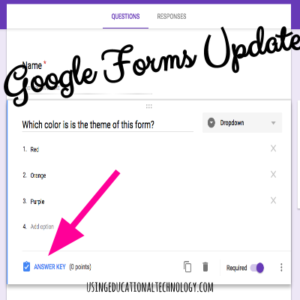 Teachers have had the ability to create quizzes with Google Forms for quite some time … using the Sheets Add-on, Flubaroo.  This new addition, however, is a Google Forms feature and can be utilized without the Add-on.
To create a quiz with Google Forms, follow these steps.
–>> Create a new Form. NAME your Form!
–>> Select Settings (toggle wheel in the top right corner) You'll notice that previous options, such as shuffle question order, edit submissions, etc., are still available. Here, you can manage how your students view the results of the quiz. I left all of the "respondants can see" options checked. However, when I use this with my students, I'll probably uncheck "correct answers." Leaving this option selected would be basically like sharing your quiz key, in my mind. AND…screenshots are easy to take and share 🙂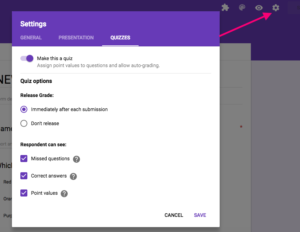 –>> Add your questions! If you select multiple choice, checkboxes, or dropdown question types, you will see the "answer key" option. This is not available for short answer, paragraph answer, or other question types.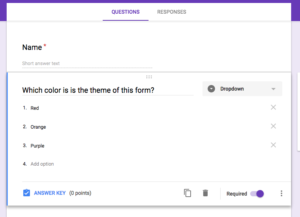 –>> Select correct answers Here, teachers can set point values and add unique feedback for correct and incorrect responses … add a URL to a YouTube video, website, assignment, etc.
–>> Select responses destination Choose where the Form responses should be stored. Choose a new Sheet or one that you've already created. In the screenshot below, you'll notice the addition of the "score" column.

–>> View responses Quickly view student responses without navigating away from your Form. Great for formative assessment!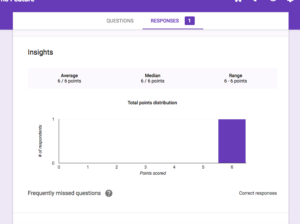 Thanks for another great update, Google! I can't wait to dive into the other new features.
Thanks for reading 🙂