Hey, all! Happy Sunday! I hope you're having an awesome weekend and, if you're like me and heading back to the classroom tomorrow, you're as ready as possible for who knows what this year will throw at us 🙂 My county is currently ranking high on the COVID cases growth chart for the country – NOT a chart you want to see your county on – and we're going back face-to-face. 😐 Please send all the prayers, positive vibes, and best wishes that we're all SAFE and HEALTHY during this school year! All throughout remote learning and summer vacation, I've seen the emergence of Bitmoji classrooms and, while they're not everyone's cup of tea, we can probably agree that they're pretty darn creative! With the appearance of Bitmoji classrooms, coupled with the increase in use of Google Classroom for remote, face-to-face, and blended learning, I've seen a few posts questioning the use of Google Classroom or Google Sites for remote learning. Here's my quick answer – I'm using both! Here's how it works: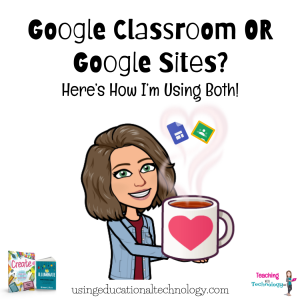 Google Classroom
Google Classroom is the information hub for my students. I share announcements, readings, material, videos, and of course assignments. I use Classroom as a way to provide feedback to students on their work, and to easily access our coursework no matter where I am – I cannot TELL you how many times the Classroom app on my iPhone has saved my booty! This year, I will probably utilize the "invite guardians" option found in the People column, which is something I really haven't pushed before, since I teach juniors and seniors and they very rarely, if ever, have homework. If we do end up in a remote learning situation, my hope is that the lovely email guardians get daily will prompt them to remind their learners of any activities and assignments they need to complete for class. Fingers crossed 🙂
Google Site
So, how does a Google Site work? Do I even need it? All of my stuff is on Classroom. Do I need to put it in two different spots? Won't that get confusing? These are ALL questions I've been asked over the last few months. While there's no right or wrong answer – this is your classroom and your students, folks! You know best! – here's what I'm including on my Google Site:
About the Teacher – I'm definitely including this on our course website this year because we didn't get a chance to have our traditional Open House. Heck, we didn't have one at all! While I don't have TONS of parents and students show up for Open House, probably since they're juniors and seniors, I enjoy the opportunity to introduce myself to my students and their parents. Even the 8 minutes they're with me (yes, literally 8 minutes) provide me with the ability to lay the groundwork for open lines of communication and an awesome parent-teacher relationship. I missed that this year, so the About the Teacher page will have to suffice. I'll be adding a video that parents can watch to this page, too 🙂
Course Syllabus – Yes, the syllabus is kind of a bore, but it's definitely something that needs to be available to parents, admin, and community members! It's there just in case anyone wants to take a look – though I doubt they do!
Course Info – On this page, I include my classroom Cell Phone Policy and a link to our daily objectives slide that parents can access throughout the year. I also include my Open House presentation that includes required materials for our class (earbuds and a Chromebook!) and information about how they can join our section of Remind.
Classroom Happenings – This is my FAVORITE page! This is where I can share pictures of my students completing BreakoutEDU activities, talking with people from all over the world through Google Meet, hanging out with our elected representatives, try MREs, and more!
Remote Learning – This page will probably be super important this year. While I sincerely HOPE we can all go back safely, the reality is it … I hate to be a downer … probably won't happen for long 🙁 This page will be a resource for parents, admin, and community members about remote learning procedures and policies in my class.
So … long story short … yes! You can use Google Classroom and Google Sites simultaneously in your classroom! They're both fabulous in their own right and can be super helpful when used together.
Thanks for reading 🙂