A recent update made by Google to Docs, Slides and Sheets is causing quite a stir in the EdTech community! If you or your students were fans of the "Research" function, you may have noticed this morning that it has been replaced by "Explore." Don't be alarmed! Here' a quick rundown of how to use the new feature, what I like about it, and what I'm adding to the feedback option to be changed!
To launch Explore in Docs, Slides, or Sheets, simply select the small star icon in the bottom right corner of the screen.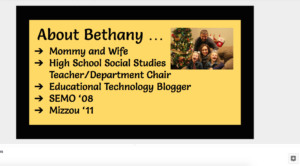 Explore allows users to access outside information based on search terms … web resources and images, as well as Drive files.

In Sheets, Explore allows users to ask a question about their spreadsheet data and drag and drop a variety of charts and graphs in the Sheet.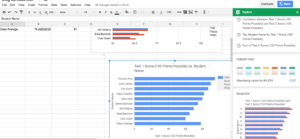 In Slides, Explore provides users with suggested layouts based on their slide content.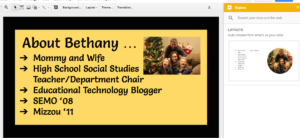 A huge concern for fans of "Research" is that "Explore" does not include citations for sources that are referenced. Also, no option is given to filter images by license. However, if users insert and image instead of using the Explore tool, images are listed that are "labeled for commercial reuse with modification."
Hopefully, the citation feature will be added soon … and judging by the resources I've read today, MANY users have suggested this in their feedback!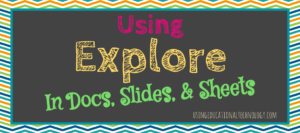 On a separate note … I'm excited to share the I am a Google for Education Certified Trainer! Yippee! I'll be hosting a giveaway soon to celebrate! I can't wait to work with some awesome educators! And…I'm a tad excited to add that pretty new badge to my emails and blog 🙂
Thanks for reading!