Over the summer, Padlet updated their already amazing website, adding more grea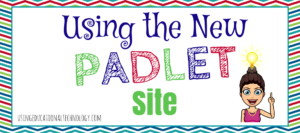 t backgrounds, images, and other features. While the new additions are fantastic, the update has shifted the location of some features, causing a tad bit of confusion among Padlet users. Here's a quick guide for navigating the new site.
When logging in, you'll notice that your dashboard is largely the same. Selecting "Padlets" from your dashboard will allow you to view a list of Padlets you've created. By selecting "Activity" on this screen, you'll view the most recent activity on each of your Padlets … hence the name 😉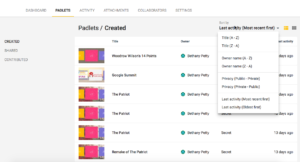 When you're ready to create your Padlet, you'll notice a menu bar on the right of your screen that provides familiar options, including the name and description of your Padlet, layout, icons, tags, and address. Themes is also available in this section which … with the premium version…allows you even more control over you Padlet wall.
P.S. I got WAAAY too exicted about the new wallpaper and icon options 😀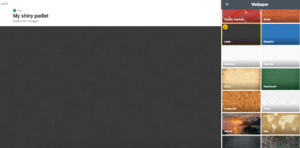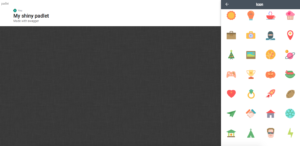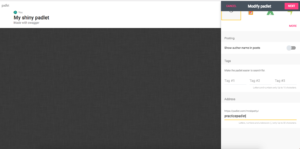 When you're happy with the basics of your Padlet, select the "Next" button to proceed to privacy and sharing settings. Here, you can determine who can access the wall and how they can interact with it. You can also add collaborators through this menu.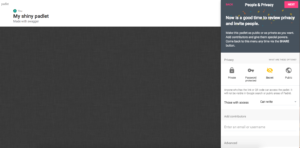 I typically make my boards "Private" and grant those who can view access to write on the Padlet. However, if you only wanted the Padlet to remain open for writing for a specific period of time … for an assignment or Bellringer, for example … you would simply access this accessibility menu and adjust the settings. Instead of allowing those with access to write, allow viewers to read only. Voila!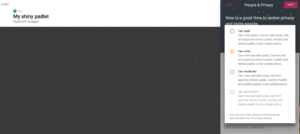 This menu also includes the "Moderation" option, which requires the teacher (or owner) to accept posts before they go live on the wall. You'll also notice this screen offers a "remake" feature which will enable this Padlet to be copied as a template. This would be ideal for using the same Padlet for multiple classes, especially if you want each class to have their own wall.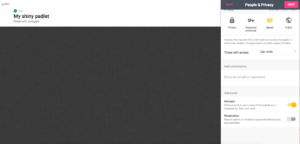 If you choose to remake a Padlet, you can choose to copy the design (layout, wallpaper, icons, tags) and/or copy the posts to the new wall. Owners can also choose whether or not the current wall privacy will be copied to the new site.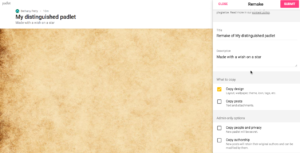 To modify your settings after creating, choose the "share" option – to edit privacy and writing options, or the toggle wheel to edit icons, wallpaper, title, description, or tags.
Let me know if you have any questions about this new update!
Thanks for reading 🙂