Happy Thursday of the first week back to school! I'm struggling to get back in the swing of setting alarms and not getting my afternoon nap … please tell me I'm not alone! The first two days of the semester in my classroom were spent reviewing content we had learned earlier in the year and trying to remember how to "school." I was looking for an activity that would help my students review the Articles of the Constitution, which is unfortunately not the most exciting topic for high school juniors to discuss! I knew I had to jazz up the review game to keep them engaged … it's one of those times when I really wish I had one of those "staples easy buzzers." Speaking of buzzers …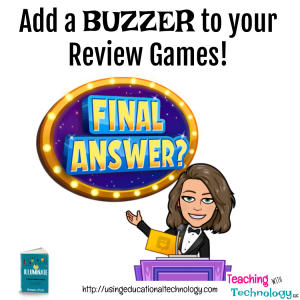 Enter Buzzin Live!
Using the Share to Classroom extension, I sent my students to Buzzin Live and told them to click "join." On my computer, I selected "host" and then displayed the join code on the whiteboard. I knew this would happen … I mean, hey, if you see a giant green button on your screen that says, "buzz" what are you going to do? Press the button, right?! And that's what my students did 🙂
The response? "Wait, are we playing Family Feud?!"
I gave them a few minutes to get it out of their system before I locked them down, so to speak. Buzzin Live gives the host a few different options …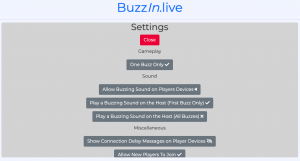 –> Selecting "one buzz only" locks out other players from buzzing in
–> Choosing "play buzzing sound on the host (first buzz only)" allows sound on the host device only from the first student who buzzes in
When you're ready to start the game, exit the settings screen and pose a question to your class using whatever review activity you choose. When students are ready to answer the question, they tap the green "buzz" button on their device. Their name is then displayed on the host screen and other students are locked out. When you're ready to move to another question, click reset all buzzers and ask away!
In the event of a clickfest – all of your students keep tapping the green "buzz" button on their screen – simply click the "toggle lock" option to lock all participants.
My students LOVED using this tool for our review game about 10 unconstitutional scenarios! Using the buzzer definitely added an element of fun to our game!