Hello, friends! February was the month of conferences, workshops, sick days, snow days, and federal holidays for me, and I feel like I'm playing catch up. I know you feel my pain! This is the 4th year of our 1:1 initiative, and I've started to just assume that my students know how to "technology," if you will. I've made an effort, as I'm sure many of you have, to make technology the background player in my classroom. I don't want it to take the main stage because that's not why I use technology. I use it to enhance learning, not to become the focus of learning. Classroom technology is like a light bulb – we use it to enhance our lives, but it doesn't become the focus of our lives –> I geek out more about this in my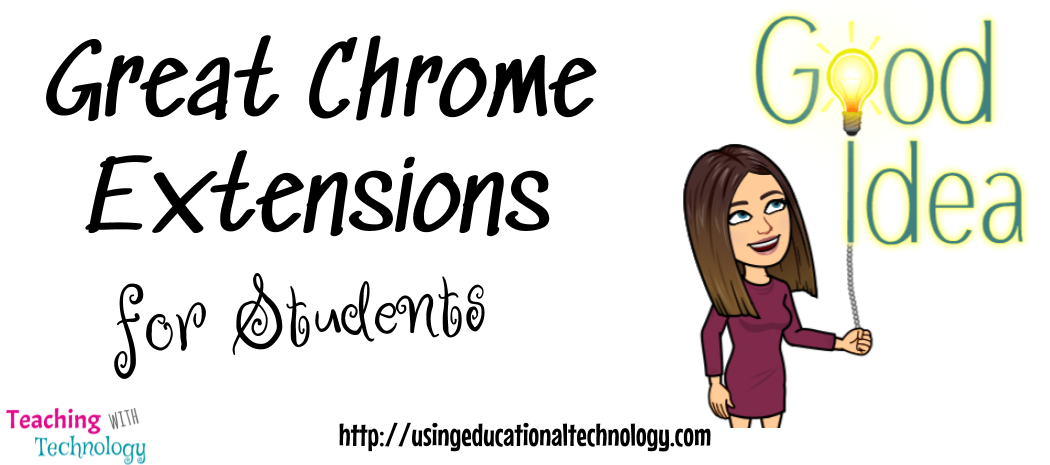 upcoming book 🙂
Even though I want technology tools to become part of the background of my classroom, I realized last week that I do need to take time to share some tips with my students. After asking my students to open a new Google Doc on their Chromebooks, and then immediately launching into an activity, I heard my students panicking because they had to wait for their Drive to open before making a new document. I said, "just use the Quick Create extension." They looked at me like I was crazy! I said, "wait, you don't have that installed?" Then, it dawned on me. I've been so focused on not making tech the focus that I forgot to show my students how they can make tech tools work for them. Below are 5 of my favorite Chrome extensions for students.
Screencastify
Since implementing the flipped classroom model a few years ago, Screencastify has been one of my must-have tools as a teacher. But, it's great for our students, too! Screencastify allows students to quickly and easily create a screencast of virtually anything, and quickly upload it to Google Drive or YouTube. Students can use Screencastify to create presentations, demonstrate a process, and so much more!
Google Drive Quick Create
Ah yes, the extension that generated the idea for this post! Google Drive Quick Create allows users to quickly create a doc, presentation, spreadsheet, form, or drawing without opening their Drive. We all know that opening Drive and creating a new file is not a super long process, especially for those of us that grew up using Microsoft Word which still loads slowly when I have to use it. However, this extension is a great tool to show your students. One of my favorite features of this extension? The new file opens in a new tab –> happiness!
URL Shortener
The goo.gl URL shortener is one of my personal favorites. I've arranged my extensions in the order of importance of use, and this one is second on the menu. The goo.gl URL shortener not only allows me and my students to create a shortened URL (as its name implies) but also provides a QR Code for any tab that is open. My students use this extension to create their QR Code for their Hashtags through History assignment, as well.
Momentum
My students LOVE the Momentum extension! When you open a tab, the Momentum extension displays a beautiful picture, the time and temperature, and an inspiring quote. Momentum also provides space to enter a goal for the day as well as items on a to-do list and a "favorites" section for frequently visited websites. When installing Momentum, you'll be asked for your name – I entered my real name, but some of my students entered things like "princess," "Grandmaster," "your highness," etc. Whatever works!
Cite This For Me
A few years ago, I blogged about an amazing citation tool called RefMe, which had a wonderful extension that would allow users to immediately add a website to any bibliography. It was FABULOUS – and then it was bought out, which made me sad. However, when I found out that it was acquired by Cite This For Me, I was excited because Cite This For Me was another great tool. The Cite This For Me extension, just like RefMe before it, provides users with a citation in APA, Harvard, MLA, or Chicago style, and also offers the ability to attach a specific quote from a source. Users can then copy and paste the citation into their bibliography or add it to a bibliography that is saved in their Cite This For Me account.
These are just a handful of the many great Chrome extensions available. Other favorites include the Share to Classroom extension (added to student Chromebooks by our admin) and Bitmoji (which is just super fun!) What are your favorite extensions for students?
Thanks for reading 🙂