In my classroom, I am fortunate enough to have an iPad (purchased for me by my school!) that I can use for instruction. Some will ask why I use my iPad. Why don't I just lecture from a power point and write on my chalkboard? My answer is….using my iPad as an instructional tool increases student engagement, allows me to be extremely mobile in my classroom, AND the content apps and access to the Internet provided by my iPad are AMAZING!
Here are some examples of how I use my iPad in the classroom…
Amazing Instructional Tool!
Students who are normally not engaged in content topic actually get excited about content delivery through the iPad, or "the pad" as we refer to it in my classroom!  I use an Apple TV to wirelessly mirror my iPad on my whiteboard, through my projector. I use the following apps most to aid in my content delivery:
Keynote
-This app allows teachers to create presentations for lecture or other instructional activities.
-Include images, links to outside websites and additional sources
Prezi
-The iPad app has limited capabilities with creating the prezi, however presenting the prezi via the app works extremely well
-Teachers can create and edit prezis via www.prezi.com and present using the iPad app

Educreations
-Educreations turns my iPad into a mobile whiteboard!
-This app allows teachers to import photos from their Camera Roll or Photo Stream, take pictures using the app, or surf the web for images. Once the images are selected, users can change the size of the image and write on the image! Awesome!
-This app also allows teachers to record their voice, save their lesson, and search for relevant lessons
We have recently implemented a BYOD (bring your own device) policy in my building. Many of my students bring smartphones, tablets, or other electronic devices to use in my class. I allow students to take notes and research on their electronic devices, and encourage them to interact on our class edmodo page via their electronic device. I NEED TO BE MOBILE IN MY CLASSROOM! Next year, my school is beginning our 1:1 initiative, and will provide every student with a google chromebook. I NEED TO BE MOBILE IN MY CLASSROOM!
Using my iPad allows me to provide direct instructions for my students while monitoring my students use of their electronic devices. This helps curb the students' desire to text, get on Facebook or social networking sites, or do anything unrelated to the lesson. (This CURBS, but does not eliminate the problem!)
Access to Up-to-the-Minute Information!
To me, especially in my social studies classroom, this is an invaluable asset of using iPads as instructional tool. I love being able to link to youtube videos, primary sources, interactive websites, and countless other Internet resources.
The apps available for the iPad are absolutely amazing. My students love using Google Earth to search for places we are studying. The "street view" capability on the Google Earth app is awesome in that it provides the students with an actual view of the area we are researching. If you search for the White House, street view allows you to go inside certain rooms in the White House! How awesome is that?!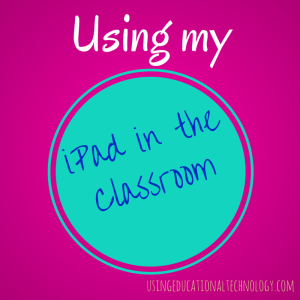 For content specific information, I love to use MyCongress, which allows students to learn more information about their Congressmen…the app has a link to Twitter feeds and YouTube channels for each Congressman. It also lists recent articles that relate to the Congressman.
More to come soon about AWESOME apps in the classroom!
Thanks for reading 🙂