One of my ABSOLUTE favorite Google tools is Forms. It's simply wonderful, and Google has made so many great updates! Google Forms can be a teacher's best friend 🙂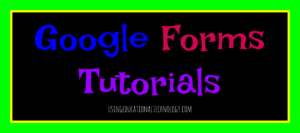 If you're new to Google Forms, or just need a quick refresher, check out this tutorial below.
One of the awesome new features Google added to Forms is the ability to turn them into self-grading quizzes! It's absolutely fantastic. Check out this tutorial to learn how to use this awesome new feature!
Definitely, put Google Forms on your list for this year! It's a super easy way to utilize technology in the classroom!
Thanks for reading … and watching 🙂