Well, friends, back-to-school insanity is in FULL swing! I decided to totally redo my bulletin boards this week … and I have had ZERO time to work in my room! Ha! I thought this would be a perfect time to share my favorite sanity-saving EdTech apps … because as teachers, our sanity levels are probably dropping at this time in the year!
As you know, I teach in a 1:1 environment with Chromebooks … and I LOVE it! Student access to Chromebooks has allowed me to completely rethink my teaching styles and (try!) to create a more student-centered learning environment. In addition to the Chromebooks, I also am so lucky to have an iPad that I use in instruction. I love Chromebooks, but sometimes it is just easier to carry around an iPad than a laptop. Sorry, laptop/Chromebook fans. Just my personal preference 🙂
So, let's play "What's On Bethany's iPad! (Part One!)" Here are my favorite iPad (and iPhone) apps to use in my classroom to aid in instruction and to prevent me from totally losing my mind!
Google Classroom
You've no doubt realized my love for Google Classroom. It is simply fantastic … and simple … and has done wonders for managing assignments in my classroom. The Google Classroom app is a must for your phone/tablet! Create and manage assignments, announcements, and student work directly from this fantastic app. I can't tell you how many times I've had to frantically grab my phone because a student emailed me because they couldn't find the assignment. Why couldn't they find the assignment, you ask? I forgot to assign it. *facepalm* The Google Classroom app is probably my favorite sanity-saving app … download it! Word of caution – the Google Classroom app features are sometimes found in a different spot than they are on the web!
Remind
Remind, formerly Remind 101, is a FANTASTIC app for your device. Easily send announcements to classes, and even participate in individual and group conversations with students. Remind has recently added some pretty fabulous features, including the ability to organize events and collect fees through the app. Remind has saved the day many times in my classroom. Maybe I'm hosting a before-school study session, and I'm running a tad late – please tell me that happens to someone else! Sometimes, I read a great article and want to share it with my students quickly. Maybe I'm watching a presidential debate or press conference … I'll send my students a Remind message. If my students need to contact me quickly, I always tell them to send me a message through Remind simply because it pops up as a text message on my phone – I look at my phone much more than I check my email 🙂
Google Earth
Google Earth is a fabulous, wonderful, awesome, amazing (and tons of other adjectives) tool for classrooms. Are your students learning about the construction of the Great Pyramids? Instead of reading about it in a textbook, why not take them to the Pyramids? Learning about the Sun King, Louis XIV? Go inside the Palace of Versailles! Learning about American Government? Why not go inside the White House – this never gets old! Perhaps you're learning about the attack on Pearl Harbor … take your students to Pearl Harbor where the USS Arizona is still visible – even on Google Earth! While you're in Hawaii, make sure to "visit" Waikiki Beach … just because I was there the summer after I graduated from college, and it's just gorgeous 🙂
Nearpod
Are you looking for ways to engage students in presentations? Please check out Nearpod! This fantastic tool allows teachers to bring students into the presentation with "on the fly" features such as multiple choice and short answer questions … which can be interjected in the presentation in real time. It's super! Why do you need the app, you ask? One of the beautiful features of Nearpod is that teachers do not need a projector in order to share their presentation! Simply open the Nearpod app, launch a lesson, share the code with your students and you're ready to go! The Nearpod app allows teachers to be mobile in their classrooms, and can really save the day if your projector bulb blows in the middle of a lesson 🙂
Schoology
As my LMS of choice, the Schoology app is a fabulous addition to my iPad and iPhone. It allows me to quickly provide feedback for my students on tests, discussion boards, etc., while still allowing me to be mobile in my classroom. I'm not tied to my desktop computer grading or fumbling around the classroom with my laptop. I grab my iPad, open the app, and I'm a feedback giving machine! The Schoology app is also incredibly helpful when I'm out of the classroom. I may not have access to my computer or laptop, but I most likely have my phone! Easy grading on the go!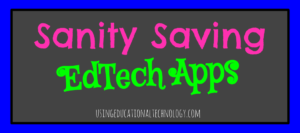 Part Two of "What's On Bethany's iPad" is coming soon … after the craziness of back to school subsides slightly 🙂
I hope your back-to-school transition is smooth and that you remember that huge influence that we as teachers have on our students … and the future!!
You don't hear this enough … but YOU ARE AWESOME and YOU ARE MAKING A DIFFERENCE!
Thanks for reading 🙂