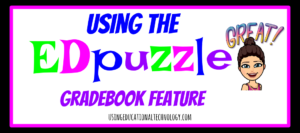 You no doubt have figured out that I am a HUGE EDpuzzle fan! EDpuzzle is an absolutely fabulous tool that is a must-have in my flipped classroom.
EDpuzzle has recently debuted some pretty awesome updates, and my favorite is the gradebook feature. EDpuzzle has always provided teachers with the option to check class and student progress on videos that are assigned, as well as view individual and whole class question results. NOW EDpuzzle has added the ability to view student progress on videos in gradebook form! It's spectacular.
To view the gradebook, teachers simply select their class and then choose the gradebook column. This allows you to view each student's score on the embedded questions. Student scores are also color-coded … just as they are in the video question view … which provides teachers with quick and easy data-at-a-glance. Gradebook scores can also be exported with a CSV file. Super awesome!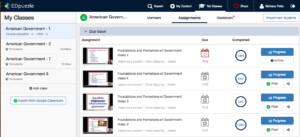 EDpuzzle has also recently rolled out the department channel feature which allows teachers to collaborate and co-create videos for their students. Teachers can easily assign video lessons created by other teachers within their department, school, or district to their students and monitor their class progress. EDpuzzle offers a variety of options for this premium service … check it out here!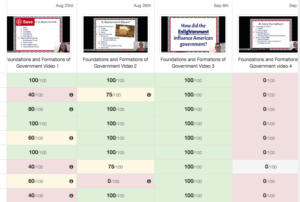 The department channel feature is spectacular, but what if you as an individual teacher are only interested in accessing the course gradebook? How can you access this fabulous feature without upgrading to a premium account?
Teachers can access the gradebook feature for FREE by following this super simple process to help EDpuzzle spread the word about their wonderful product!
–>>Lead an EDpuzzle workshop with your department or school
–>>Take a photo of the attendees during the workshop
–>>Post the photo to Twitter with #edpuzzleworkshop and mention @EDpuzzle
–>>Send an email to xfrancas@edpuzzle.com and attach the photo
Super simple, right?
This great tool just keeps getting better and better!
Have you tried EDpuzzle in your classroom, yet? Let me know how you use it in the comments or on Twitter @Bethany_Petty . Be sure to check out my YouTube channel for tutorials on using EDpuzzle and the EDpuzzle extension!
Thanks for reading 🙂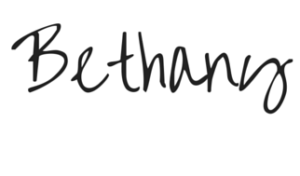 **EDpuzzle is a sponsor for Teaching with Technology**