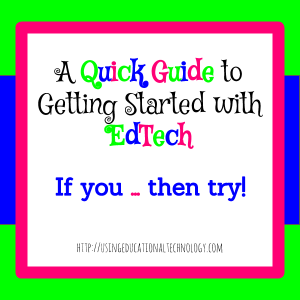 Educational technology can provide a wonderful, fantastic, fabulous (and tons of other adjectives) opportunity for teachers and students. However, all too often teachers are tossed a Chromebook or an iPad and told "use this" with little to no training.
I know the world of educational technology can be overwhelming. Sometimes, the sheer amount of tools and trends available to teachers has an effect on what teachers are willing to utilize. I mean really, teachers are focused on meeting standards, raising test scores, student accommodations, faculty meetings … the list goes on and on! Simply tossing another requirement on a teacher's already overflowing plate and expecting them to "use this" may not yield the best results.
So, if you find yourself with an abundance of awesome technology resources in your classroom, and are not exactly sure where to start, check out my "Start Here" Guide to Educational Technology. Let's play "If You…Then Try!"
If you assign viewing guides for videos in class, then try creating a Padlet wall!
The possibilities are absolutely endless for the wonderful tool that is Padlet. I love using Padlet to as an exit ticket for my students, and also as a springboard for review. As a Social Studies teacher, I show many historical films in class in an attempt to encourage students to connect with the content. However, I'm no dummy 🙂 I know that while I may be able to passionately recite nearly all of the glorious words of Lincoln by heart, my students may not be quite as excited about the movie. (Seriously, though. It's fan-flipping-tastic) In order to keep students engaged in the content of the movie, I post guiding prompts on a Padlet wall that students will answer as they proceed through the film. These prompts may include questions about the historical accuracy of the film, biographical questions about the characters, as well as questions about how my students would react to situations the characters encounter. Padlet is SOOOO easy to use, AND you don't have to create, print, copy, and distribute boring viewing guides 🙂 (Read more about my Lincoln video lesson here)
If you assess students with paper/pencil tests, then try creating a Google Form!
I LOVE GOOGLE FORMS. Yes, I'll admit I may be a tad obsessed with these fabulous data collectors, but I can't help it! They're awesome! In case you missed it, Google added a wonderful "Quiz" feature to Forms that allows various question types to be automatically graded. Choose multiple choice, dropdown menu, or checkboxes to provide prompt feedback on the quiz. Teachers can include other question types (short answer, paragraph answer, etc) in the Form as well, but will not be able to automate grading of these questions. This isn't terrible, however … can you imagine the grading inaccuracies if we attempted this? Students would have to include every letter, word, and punctuation mark in order to get the question "right."
If you present information with a presentation (Google Slides, PowerPoint, PDF, etc) then try creating a Nearpod presentation!
Have you tried Nearpod, yet? Nearpod is a fantastic tool for teachers to create interactive presentations to share with their students. Simply make a free account (premium accounts are available, as well) and create your first Nearpod lesson. Teachers can create a lesson on Nearpod or by uploading a previously created presentation – PDF or PowerPoint form. Be sure to add the Nearpodize extension to your Chrome browser to easily turn existing Google Slides presentations into Nearpod lessons – without leaving your browser! Nearpod is a must-have tool for the 21st-century classroom! Check out my first review of Nearpod here.
If you play review games with your students, then try creating a Kahoot!
By now, I'm sure you've at least heard of the amazing tool that is Kahoot! Instead of playing an old-school Jepoardy review game with a PowerPoint template, create a FUN and interactive review activity that your students will LOVE! Kahoot! appeals to all learners and the level of student engagement will blow you away! Kahoot! is adding new features all the time. Teachers can even share Kahoot! reviews with their students to review outside the classroom! I use Kahoot! for review games and for formative assessment after students have watched flipped videos! It is awesome!
I hope these suggestions can help you ease into the world of educational technology! I know that the abundance of EdTech tools can be overwhelming! Use these tools and ideas with your students to help launch your learning environment into the 21st century!
Thanks for reading 🙂